Charm "Memento Mori"
Regular price

$29.00
Sale price
Rating: 5.0 out of 5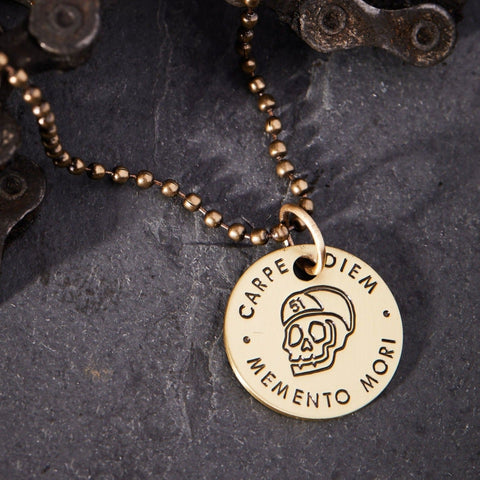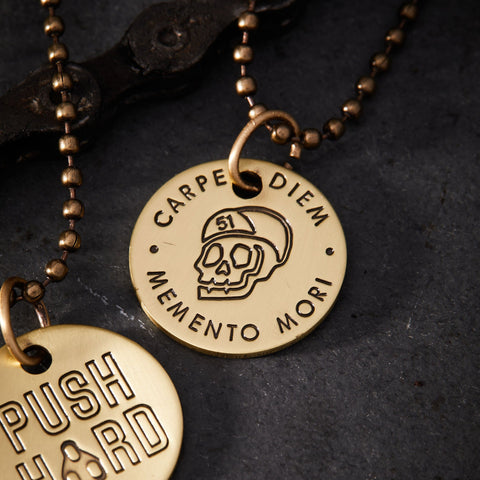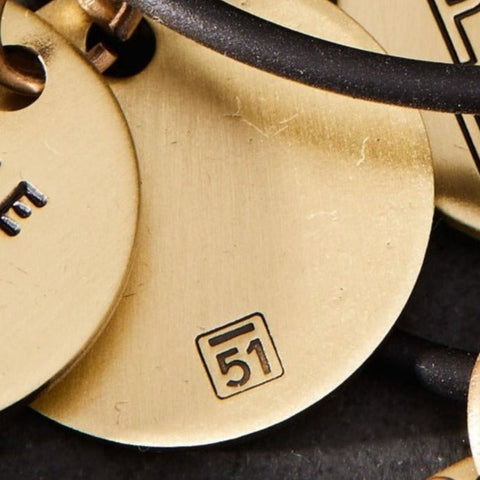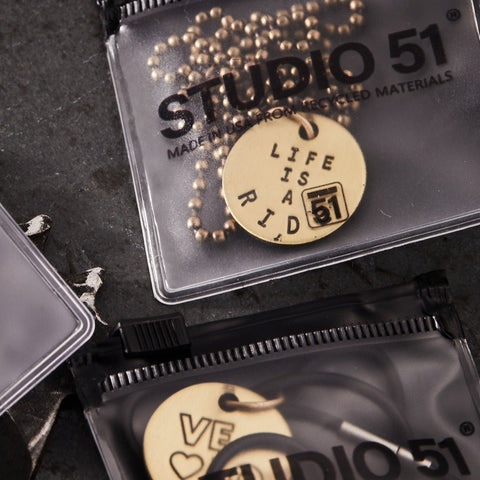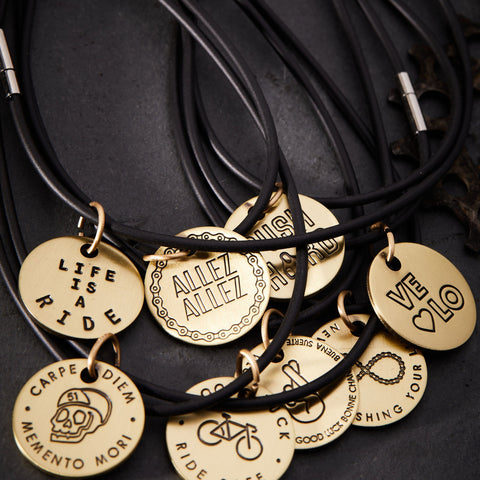 Description
The two classic ancient Memento Mori and Carpe Diem mottos united on one small coin. This lucky charm is a constant reminder of how fragile and short life is. Let's seize the day and get on your bike. The little skull buddy with his 51 cap will make sure all will be good.
Details
Made with the highest quality recycled 70/30 brass available. The design is hand-stamped with a hydraulic press on raw brass before adding any finish.

22mm diameter coin with 3mm hole on top.

Electroplated with a baked satin lacquer finish.

All our goods are 100% nickel-free and hypoallergenic, and safe to wear on the skin, both on and off the bike.
Product Care
Our 70/30 brass is extremely durable and develops a beautiful patina, which over the course of time adds dimension and character.

Untreated raw brass can be worn without any polishing to let oxygen, water, sweat, and your natural body chemistry create that desired living finish and beautiful look.

Electroplated items have an extra layer of baked satin lacquer to extend the shine and delay the tarnishing. If you'd like to maintain the original shine, please polish your jewelry from time to time.

The easiest way to clean brass is using a polishing cloth impregnated with a cleaner to remove all surface oxides.

Another option for cleaning your brass item is using a mix of lemon and baking soda and gently rubbing it in one direction with a soft cloth.

Store your jewelry in its original plastic zipper sleeves and outside the bathroom to keep moisture away.

Please note that the elastic rubber neckband is made from recycled rubber that tends to harden after a certain time of constant and extensive wear. We recommend to clean it with hot water after use to keep it soft and bendable.
WHAT OUR CUSTOMERS ARE SAYING...
Amazing necklace with a great message
I love this piece and after 1 month of owning it I am happy to say that it has been great and looks just as amazing. I use it on and off the bike as well as in the shower. The necklace and pendant have survived all this abuse.