Pendant "Skull XL"
Regular price

$99.00
Sale price
Rating: 5.0 out of 5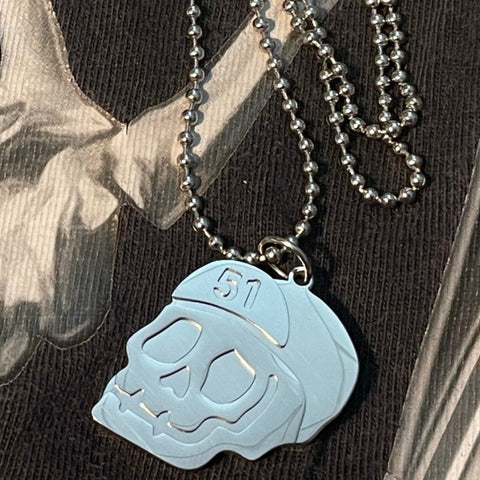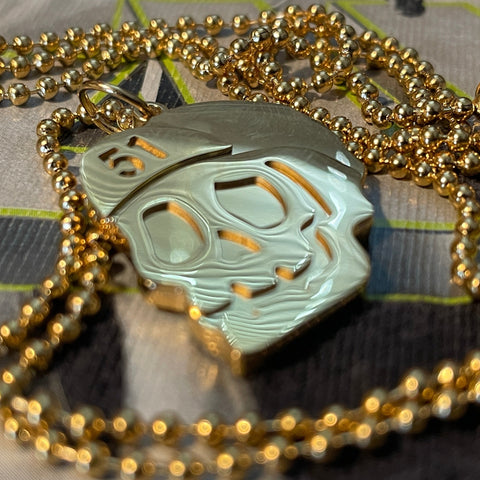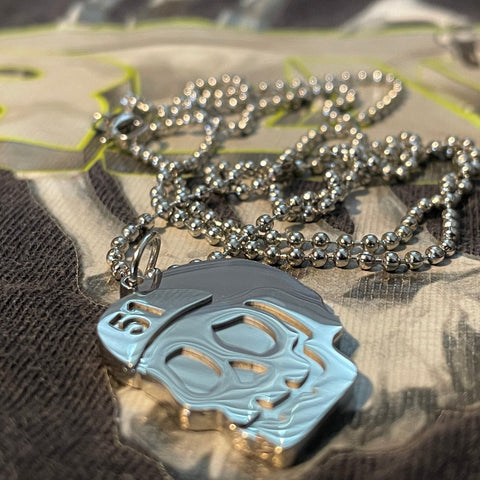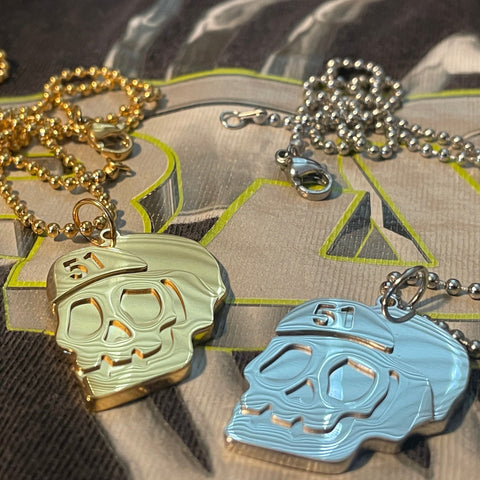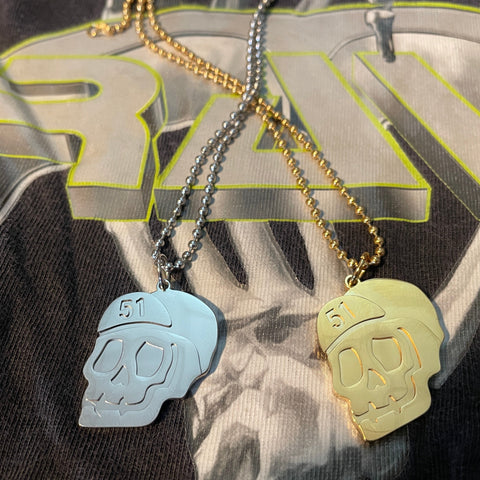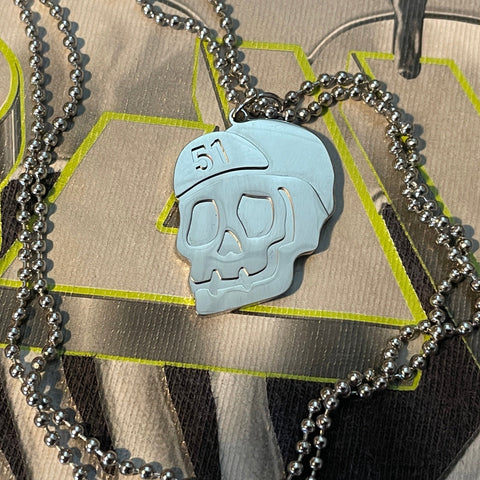 Description
Cycling meets Hip Hop. Introducing the talisman 'Skull' in XL size for a really bold and masculine look. Only available with matching ball chains in long sizes to carry this heavy-weight. Great for a rad style on the bike or wear with a T-shirt or a resort shirt (check out the ones from Ostroy!) after the ride. Available in solid stainless steel and elegant 14k gold.
Details
Made from recycled premium stainless steel, the best base material for longevity without tarnishing when exposed to water, sweat and skin.

27mm x 20mm, 5mm thick.

Stainless Steel and 14k gold plated. The front is polished, back is brushed with dossard number 51 embossed.

All our goods are 100% nickel-free and hypoallergenic, and safe to wear on the skin, both on and off the bike.
Product Care
All our pendants and talismans are made from recycled stainless steel and therefore 100% hypoallergenic. Stainless steel is durable and resists corrosion and oxidation which means it will not rust, fade, tarnish, or turn your skin green, even if worn daily.

The simplest way to clean your stainless steel jewelry is with a bit of soap and water when it's dull and dirty. This helps clean off any pollutants and grime on your jewelry. Remember to use mild liquid soap and warm water only.

Avoid harsh chemicals. Bleach and chlorine can damage the surface of stainless steel metal.

Avoid storing your jewelry with other sharp objects or jewelry as this could scratch it.

For our 14k gold items please note that plating is a process where a layer of gold is placed on the surface of another metal. As with any jewelry that is not 100% solid gold, extra care should be taken to maximise its lifespan.

Please note that anything plated will eventually tarnish with time and wear. To limit the chances of fading out, here are easy ways on keeping the shine of your plated jewelry.

Wait until your lotion, cream, nail polish or perfume is dry or has been absorbed by your skin before you wear plated jewelry.

To avoid direct contact with sweat, try keeping it away from skin contact when you ride or exercise.

Avoid wearing two or more plated items together as the rubbing will lead to tarnishing the surfaces.

After every use, clean your jewelry with a soft cloth to remove sweat or dirt. Gently rubbing the surface of your plated jewelry helps restore shine.

To avoid scratches, wrap your jewelry in a soft cloth or keep it in a jewelry box separate from other types of jewelry you have.

Do not store gold plating and silver plating together as the different metals will cause each other to tarnish.

Always store in a dry area.

WHAT OUR CUSTOMERS ARE SAYING...
A great piece with a great back story.